P.O. Box 1050, Gretna, Fl. 32332
​ Phs: 850-270-8793 or 792-2152 (7AM-7PM) or 850-364-0079 (VOICEMAIL)
Email: ycmad2733@gmail.com/zyggy2733@hotmail.com
YOUR CONTRIBUTION Helps us, Help Them!

Our mission is to prevent animal neglect, abuse and abandonment. In order to fulfill our mission we strive to prevent animal overpopulation.
To achieve this goal we provide Families in Gadsden Co., and adjacent neighbors in Florida. the opportunity to secure:
LOW COST (co-pay ranging from $20-$50) vouchers for spaying/neutering companion pet(s) Co-pay for dogs based on sex and weight. Dogs over 50 pounds co-pay will increase $1.00 per pound.
LOW COST WELLNESS VOUCHERS (co-pay ranging from $20-$35) (vaccines) for companion pet(s)
Emergency Pet Food Assistance, (see PET FOOD ASSISTANCE APPLICATION FORM)
Emergency Veterinary Financial assistance (fund pairing) contribution based on need and funds availability
FREE "FIRST SHIELD TRIO" Flea, tick and mosquitoes protection for dogs weighing 2 to 20 pounds while supplies last!
Aid rescuing AND re-homing domestic animals who are victims of abuse , neglect or abandonment
By providing these services we encourage responsible pet parenting, education regarding the importance of spaying and neutering the humane alternative to control animal population; prevent/stop abandonment, neglect and abuse
​
​Want to know more about us? Click this link:
#
---
2017 comes roaring your way!
GADSDEN, LIBERTY AN JACKSON CO. RESIDENTS and ADJACENT NEIGHBORHOODS are now able to secure LOW COST SPAY/NEUTER AND WELLNESS (vaccines) VOUCHERS.
Emergency Veterinary Assistance for dog(s)/cat(s) will be offered only to residents in Gadsden and Jackson County... visit our CATS/DOGS spay neuter requirement page for more information!
HAVE YOU purchased your Florida Plate already, if not please consider purchasing this one, your contribution goes directly to help spay neuter animals in our State.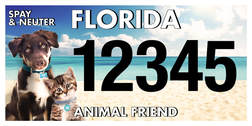 2016 Reviewed, did you know? This was an outstanding year for our organization thanks to YOU! We were able to issue 545 spay/neuter vouchers ; 192 wellness vouchers, and 122 Emergency Veterinary Assistance vouchers . Thanks to our team we were able to provide assistance with transportation to 154 families, these are dogs/cats that would otherwise never have been spayed/neutered/vaccinated due to lack of transportation. We were able to save the lives of 52 dogs, 4 suffered significant injuries secondary to being hit by cars, 7 suffered from severe heartworm infectation due to lack of financial resources to secure needed medications. In addition we provide necessary financial assistance to complete amputations, eye enucleations, dental interventions, surgery for stomach tumors, heartworm testing, laboratory work, tumor removals, 17 veterinary evaluations, and numerous vaccinations.
Regarding direct services: we rescued 55 dogs, and 11 cats. Of the 55 dogs rescued and 11 cats, 52 dogs and 9 cats found forever homes. We provided food assistance to 45 families on a consistent basis throughout the year; 10 additional families benefited from 3 months of pet food supply, and 9 families received food for two consecutive months; we provided heartworm medication on a monthly basis for 3 dogs, we provided housing for companion pets to 32 families, now their companion pets will not be exposed to the elements, and lastly, we created 4 enclosures to protect companion pets.
We are proud of our accomplishments and look forward to expand our services in the year to come...